Introducing the Interior Curve collection
247 Blinds are delighted to be working with Siobhan Murphy to bring you the first Interior Curve collection.
Siobhan's debut blinds and curtains' collection is a masterclass in pattern and there is something for everyone. From the gentle repeated pattern of Deco Sea Shells and Opulent Scallop, which will inject subtle colour and elevate a neutral home through to the bolder Palm Springs & Miami designs, which will guarantee a real statement at your window.
Siobhan Murphy is a visionary British interior designer and stylist from Yorkshire, whose creative prowess and zest for life shines through in her playful and joyous design style. With a sharp eye for detail and a passion for transforming dull spaces into beautiful and decadent abodes, Siobhan has earned a reputation for being a true master of her craft.
Siobhan's talent has been recognised by many, having authored the best-selling interiors book, "More is More Decor" and having contributed to OK! Magazine as an interiors columnist.
The Interior Curve Collection
A beautiful range of glamorous designs, Siobhan Murphy has created ranges that feature callbacks to popular eras but with a modern, maximalist twist. This collection of Roman blinds will help create a playful space, with their velvet or faux silk fabrics help create an air of opulence. Want to build on the "more is more" design trend? See these stunning fabrics in our sister stunning fabrics in our sister 247Curtains site right here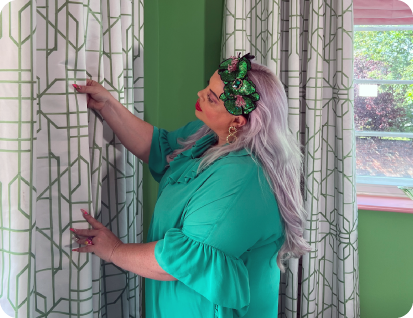 "My favourite designs from the Interior Curve collection are the Bamboo Brights and Bamboo Candy designs as they feature some beautiful colour combinations . These designs would work equally well in a minimalist white scheme and to makeover a bathroom or kitchen window but can also be layered and contrast with a larger design from the collection. This collection has been designed so that all the colours and patterns can work together. For a truly high end, on trend look I would recommend choosing a roman for your window recess and matching curtains outside for real hotel vibes"
Amy Wilson, 247Blinds Creative Director